Study: 70% of Estonians consider Rail Baltica to have a positive impact
According to the opinion survey carried out in April 2021, people's support for the Rail Baltica railway project has increased to 65%. Also, the share of people who see the positive impact of the project on Estonia has increased considerably to 70%.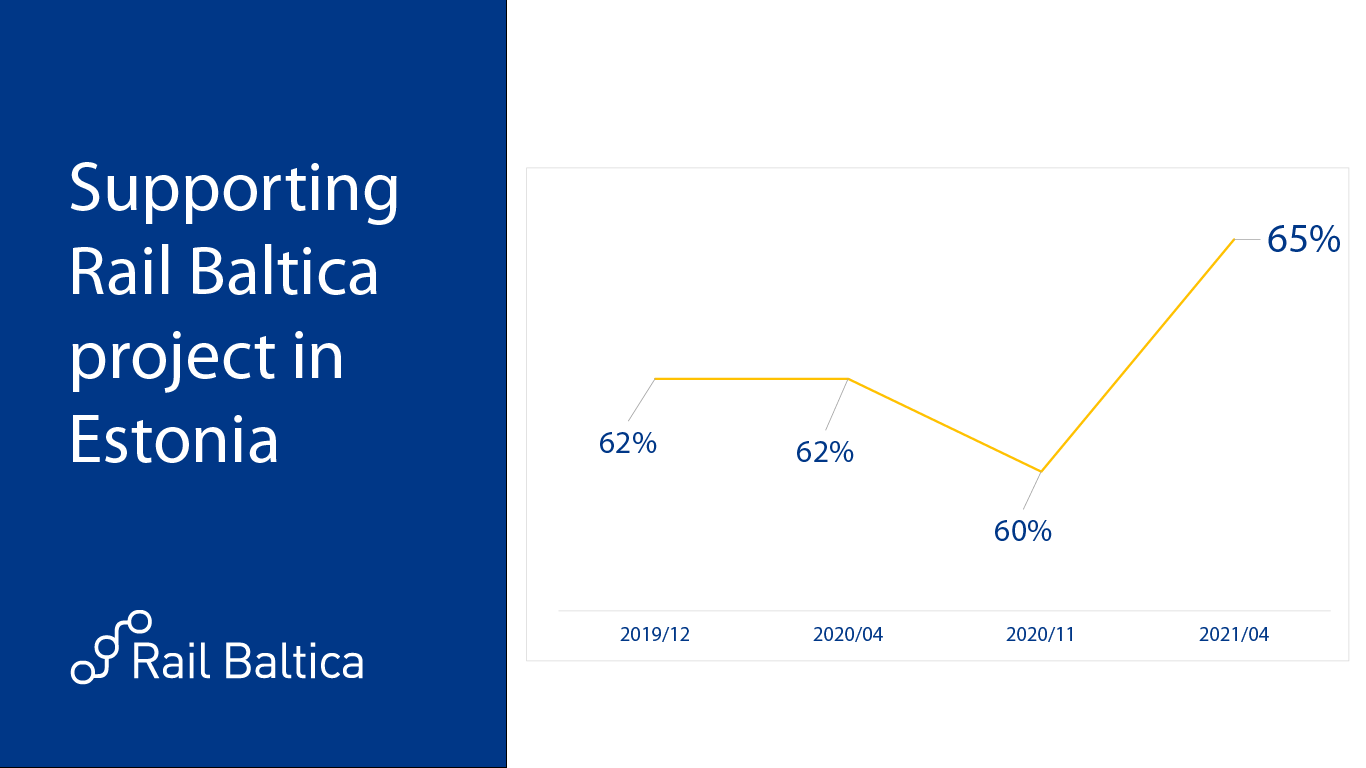 According to this new survey carried out by Turu-uuringute AS, the assessment of the impact of Rail Baltica is at the highest level compared to the previous surveys. 70% of respondents who are aware of the Rail Baltica project consider that the new railway will have a positive impact on Estonia. In particular, young people aged 15-29 believe in the positive impact of the railway. The main benefit of Rail Baltica is seen as more comfortable and faster movement of people, followed by faster and more secure freight transport, also the jobs created and the development of businesses.
According to the survey, the overall support for the Rail Baltica project has also risen to 65%, it was at this high level previously in the spring 2019. 23% of the survey's participants do not support Rail Baltica.
The number of people who assess that Estonia should have a more modern and faster rail connection to Europe has also grown. The proportion of these respondents is 67%.
"Support for Rail Baltica railway has remained stably high over the years, and the latest survey shows even greater support for the project. People expect to have a fast, comfortable and environmentally friendly connection with the rest of Europe, in the same way that Rail Baltica will become an important player in regional rail transport in the future due to the establishment of 12 local stops," said Tõnu Grünberg, CEO of Rail Baltic Estonia.
83% answered that local train traffic raises the regional value of Rail Baltica and 60% would be users of a fast regional train themselves in the future.
According to the latest opinion survey, people's awareness of the railway as an environmentally friendly and secure mode of transport has risen significantly. 83% of respondents consider that rail transport is more environmentally friendly than road transport, and 81% believe that using a train to move saves lives more than moving on the road.
The attitude and awareness of Estonians regarding Rail Baltica project has been studied since autumn 2016, based on a similar methodology. This year, for the first time, the study was conducted by Turu-uuringute AS. A poll was conducted among 1003 Estonian residents between 19–26 April 2021.