French, German, Latvian and Spanish companies to design 123 km of Rail Baltica track in Latvia
5 July 2019, Riga – the Joint Venture of Rail Baltica signed two design contracts to commence design works on a 123 kilometres long central section from Upeslejas through Riga to Misa and from Vangaži through Salaspils to Misa. The design works are carried out on behalf of the Ministry of Transport of Latvia.
"Rail Baltica is indeed a game-changer project in many aspects not just transport. The two sections: Riga central section and Vangaži – Salaspils – Misa are challenging, and our aim is to achieve the best possible designs and solutions. I expect the best result, embedded in the European best-practice for the benefit of Latvia and the global project," says Tālis Linkaits, the Minister of Transport of Latvia.
"With today's new contracts signed, design works have already started on 411 km of the Rail Baltica line: from Kaunas to the Lithuanian – Latvian state border; from Pärnu to Tallinn and in the central section of Latvia. Meanwhile in Latvia, all key Rail Baltica elements – the two mainline sections around Riga and Rail Baltica passenger stations in Riga Central Station and Riga International Airport – have reached the design phase", says Timo Riihimäki, CEO of RB Rail AS. "Rail Baltica project has reached significant progress in the past six months and we can present tangible results with signed contracts and teams of engineers already engaging in the field work."
The first design contract worth 12 989 200 EUR was signed with a group of two Spanish companies – IDOM Consulting, Engineering, Architecture (IDOM) and Ingeniería y Economía del Transporte (INECO) to design the main line section through Riga.
Within 24 months, the team of IDOM and INECO will deliver the detailed technical design for 56 km of the track followed by consecutive author's supervision during the construction phase. According to the preliminary design, this section includes 30 road and railway viaducts, 4 bridges, 13 pedestrian crossings and 4 ecoducts, as well as the only tunnel within the Project.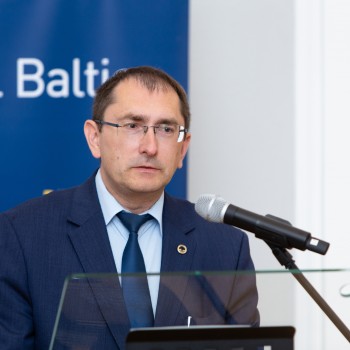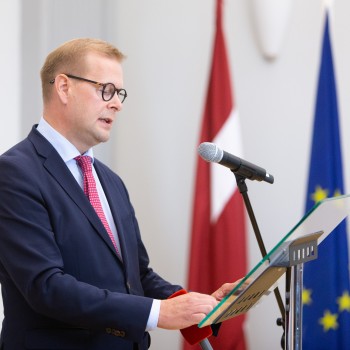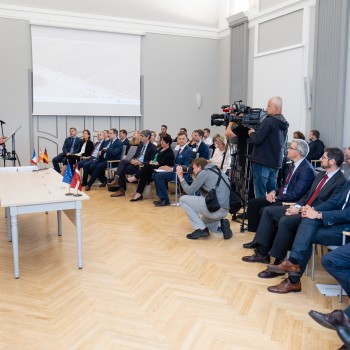 Both companies are well prepared to design high-speed railways. With 3 500 people in 45 offices worldwide, IDOM has more than 20 years of experience in designing conventional and high-speed rail in Europe, America, Middle East, and Africa. Recently, the company has been involved in high-speed projects in Spain, Poland and Sweden. Similarly, INECO has been working in transport engineering and consultancy for 50 years, with more than 20 years of experience in the high-speed rail sector and offices in 50 countries. Currently, IDOM is involved in developing designs in four more sections of Rail Baltica.
"With over 3 000 km of high-speed rail delivered across Europe, IDOM is proud of contributing in the world-class project of Rail Baltica," during the signing ceremony said Alvaro Rey, Chief Executive Officer of IDOM. "INECO and IDOM will combine their efforts to deliver a state-of-the-art and efficient transport system."
The second contract worth 12 024 529 EUR was signed with the association of Egis Rail (France), DB Engineering & Consulting (Germany) and the Latvian company Olimps.
This association of companies will deliver the detailed technical design for 67 km of the track. According to the preliminary design, this section includes 33 road and railway viaducts, 11 bridges (including a large bridge over the river Daugava), 2 pedestrian crossings and 3 ecoducts. Similarly, the term of the contract is 24 months for design works and will be followed by author's supervision works during the construction.
With engineering companies from France, Germany and Latvia, this association represents a blend of valuable international and local expertise.
Egis is the biggest engineering company from France with more than 15 000 employees worldwide and 1 billion euros turnover. Egis has more than 50 years of experience in engineering transportation systems and has coordinated and delivered numerous projects all over the world, from the Doha and Grand Paris metros, to the Nice and Birmingham LRT systems, but, especially, high-speed lines like the Kenitra-Tangier HSL in Morocco or the Sud Europe Atlantique HSL in France."
As part of the Deutsche Bahn-Group, DB Engineering & Consulting (DB E&C) works on rail infrastructure projects nationally and internationally. The company employs around 4 800 employees and offers advising, designing and implementing for mobility and logistics projects from the idea to operations. References in Germany include, among other things, design and construction supervision for the Berlin–Munich high-speed route ("VDE 8"), overall planning of the first CO2-neutral ICE plant in Cologne-Nippes and overall coordination of the renewal of Hanover Main Station, including Building Information Modeling (BIM). Internationally, DB E&C is known as the engineering consultant for the Haramain high-speed rail project in Saudi Arabia, high-speed rail project Gothenburg–Borås in Sweden and has developed a complete traffic system for the Emirate of Qatar. Whereas Olimps from Latvia specialises in engineering, design and specification development as well as coordination of all level design documentation.
"Egis is very proud to take part in this major European project. It will change the way people and goods travel in the Baltic States, and it also a very strong symbol for the unity of Europe. Our Consortium with Egis, DB and Olimps is forming a European team from France, Germany and Latvia. This European atmosphere among the suppliers, but also within the Rail Baltica team is very challenging and very exciting. It is a significant project for Egis and our partners, a very good reference and we are keen to deliver it on time and with quality," says Mr. Olivier Bouvard, CEO, EGIS RAIL.
85% of the funding necessary for these Rail Baltica design works is provided by the European Union and 15% by Latvia. Detailed technical design of the main line of Rail Baltica in Latvia will be delivered by RB Rail AS on behalf of the Ministry of Transport.